Posted: Sunday, February 11, 2018 10:31 AM
---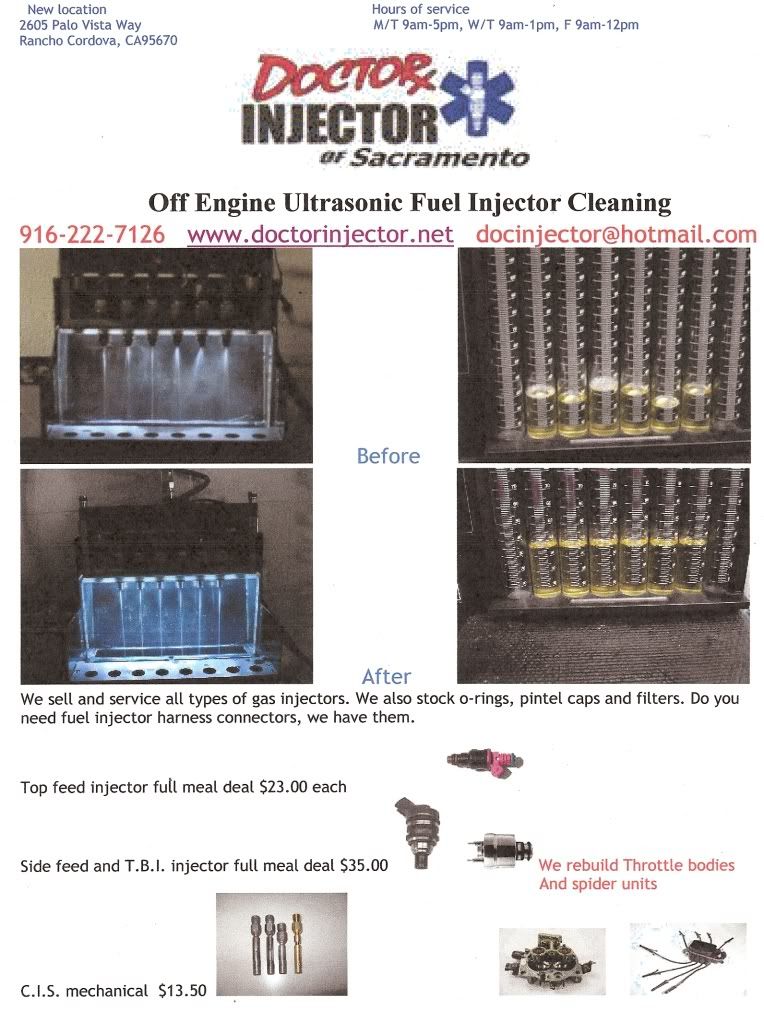 At Doctor Injector of Sacramento we perform off engine ultrasonic fuel injector cleaning. Here is a link showing what we do.
http://www.doctorinjector.net/7343.html
Each Injector is electrically tested and checked for leaks at tip and body. We check the spray pattern and measure the flow of fluid. strip the injector of o-rings ,pintel cap and filters. after the cleaning process we test the flow again, if it is not up to par repeat the cleaning process as needed.
All injectors are returned with a flow sheet showing before and after results , withe new filters, o-rings and pintel caps.
We rebuild Throttle Body's and can re-bush the shaft if needed if it is a 3/8 or 5/16.
We rebuild the spider units for the 4.3 and 5.7 chevy/gm.
We service the mechanical injectors CIS for VW ,Mercedes BMW.
We also have injector plugs for almost any application. We sell alot of those to shops repairing rodent damage and making a new wiring harness.
We sell new and serviced fuel injectors.
Lets say one of the fuel injectors in the engine is electrically bad. You purchase a new or rebuilt injector, but your other injectors are may be dirty and not flowing properly at wide open throttle and low speeds, ruff idle, possible misfire, lack of power and gas millage . We can test those injectors with the new replacement and if they have a poor spray pattern or lean flow we can roll the test price into the full service price.
We service repair shops, machine shops, boat and motorcycle shops, race teams and the do it your self guy or gal.
If you are pulling the intake or head for service then send us the fuel injectors.
If you are rebuilding the engine or head then send us the fuel injectors.
If you bought some injectors used, wrecking yard, eBay and so on then send us the injectors.
If you have any questions I would like to talk with you . We have a quick turn around, most times it just takes a day depending on the amount of work on the bench for our 2 machines. We have had shops as far away as England send us there injectors.
If you have any questions please give us a call. Doctor Injector, 916-222-7126
We have moved to our new location at 2605 Palo Vista Way , Rancho Cordova, Ca 95670
Hours of service M/T 9am-5Pm, W/TH 9am-1pm, F 9am-12pm
<
• Location: Billings

• Post ID: 3129254 billings
Play it safe. Avoid Scammers.
As a precaution, email contact has been disabled in this category because of scam attempts. If this ad does not contain a working phone number, web address, or the poster has forced their email address into the ad, the chances of it being legitimate are very low.
Most of the time, transactions outside of your local area involving money orders, cashier checks, wire transfers or shipping (especially overseas shipping) are scams or frauds.
Report all scam attempts to abuse@backpage.com.